less than two weeks since introducing Super Troops in Clash of Clans Spring 2020 Update and now for first time they are available in Atrarsis Servers too!
Update will be released in two parts due to bug fixing stuffs :
Original Server (Released) -> Download Link (v13.180) : https://atrasis.cc/server-original.html
Ultimate Server (17th April) -> Download Link (v13.180) : soon...
Seen a bug or crash in server? please tell us more about it in Bug Reports Thread so we can fix it asap!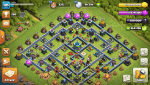 Last edited: