Ultimate Server
Experience Clash of Clans like never before with our Ultimate Server, featuring unlimited gems, resources, and many mods.
Stop waiting and download the game now!
Download the game from our website and start playing right away. Don't wait any longer and join us now!
Phone version
Optimized for phones, it is the best choice if you want to play the game on your phone.
Works on all devices (ARM & ARM64)

Minimum Android 5.0

Minimum 2GB RAM
Emulator version
Optimized for emulators, it is the best choice if you want to play the game on your PC or Mac.
Works on mostly all 32-Bit / 64-Bit emulators (BlueStacks 5 Pie recommended)

Minimum Android 5.0

Minimum 2GB RAM
How to Install Atrasis: Step-by-Step Guide
Follow these easy steps to install Atrasis on your device. Steps may vary depending on your device and the version you choose.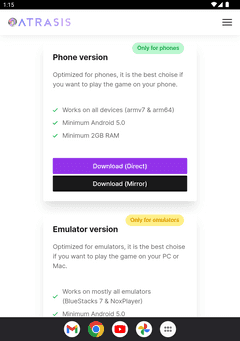 Step 1 - Download the Installation File
Download Atrasis from the links below. You can choose between the phone version and the emulator version.
If you're not sure which one to choose, we recommend downloading the phone version.
Choose Version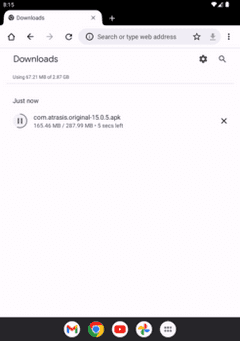 Step 2 - Open the Downloaded File
Open the downloaded file to install Atrasis on your device.
The download may take a few minutes depending on your internet connection speed.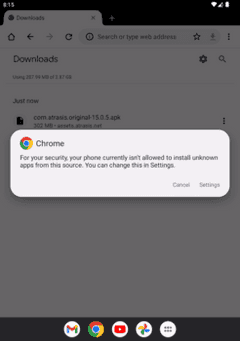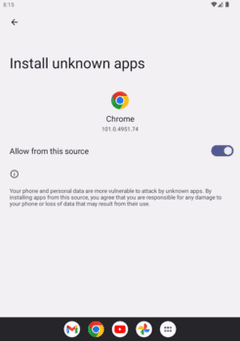 Step 2.1 - Allow Installation from Unknown Sources
You may need to allow installation from unknown sources.
Click on the Settings button from the popup and then click on Allow from this source.
Note: This step may differ on different devices.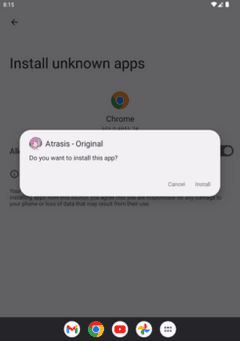 Step 3 - Install Atrasis
Click on the Install button to start installing Atrasis on your device.
The installation process may take a few seconds.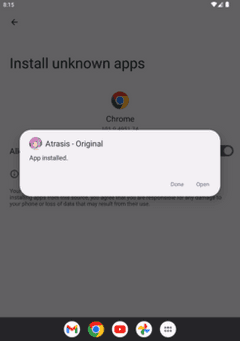 Step 4 - Open Atrasis
Congratulations, Atrasis is now installed on your device!
Click on the Open button to start playing Clash of Clans with Atrasis private server.
Frequently Asked Questions
Find answers to common questions about installing and playing on Atrasis, one of the largest private servers for Clash of Clans.
To install the game on your phone, simply follow the tutorial on our website. If you're unsure which version to download, we recommend downloading the phone version.

Yes, it's safe to install the game on Atrasis. We've been running for over four years and have had no issues with security or user privacy.

Yes, you can keep the official game installed on your phone. The game will be installed as a separate app, and you can switch between the official game and Atrasis as needed.

If you encounter an error, try downloading the game again. If the problem persists, make sure you have at least 2GB of free space on your device. If that doesn't work, reach out to our support team for assistance.

To play Clash of Clans on your computer, you'll need to download an emulator like BlueStacks or NoxPlayer. Then, download the Clash of Clans APK file from our website and open it in the emulator to install the game.

No, you don't need a rooted phone to install Atrasis. Our server works with both rooted and non-rooted devices. However, rooted devices may have additional features and customization options.

We release updates for Atrasis regularly to ensure the server is up-to-date with the latest version of Clash of Clans. We aim to release updates every few weeks, but the frequency may vary depending on the complexity of the changes.

No, you can't transfer your account to Atrasis. Your account on Atrasis will be separate from your account on the official game, and you'll need to start over with a new account on our server. We do offer starter packs and incentives to help you get started, though!